The Korean minivan Kia Carnival, having survived the planned restyling, entered the market of South Korea. Updated Kia Carnival received a more modern exterior design, complemented by modern lighting technology, an improved cabin designed for comfortable seating from 7 to 11 people, as well as a new 8 automatic transmission, which replaced the "automatic" with 6 steps. In our review of Kia Carnival in 2019-2020 – photos and videos, the price and specifications, technical specifications of a solid 5-meter Korean minivan, offered in some markets under the name Kia Sedona. Sales of the new Kia Carnival 2020 model year have already started in South Korea at a price of 28.8 million won (about 1535 thousand rubles). The Korean minivan Kia Carnival is not officially offered in Russia, so our review can be considered purely academic and cognitive.
We want to note at once that the Carnival minivan is available in Korea already in three versions: the usual family minivan Kia Carnival, a version for long trips with a huge closed box-luggage compartment on the roof – Kia Carnival Outdoor with a price tag from 39000000 won (2080 thousand rubles) and a luxurious version of Kia Carnival Hi-Limousine, flaunting a chic body and a rich interior with a price of 42.27 million won (2253 thousand rubles). However, in the review we will pay attention to the usual Kia Carnival, intended for family motorists.
Having survived the restyling, the Korean minivan acquired modernized headlights with a long strip of LED daytime running lights (optional LED headlights are offered), a new falshradiator grille with an original grille pattern, a modified front bumper with an enlarged lower air intake and a slightly different pattern of decorative linings , decorating the box with fog lights. At the same time, the upgraded minivan is supposed to use LED "fake cubes" as additional equipment.
The stern restyling versions of the minivan with new LED light bulbs with three-dimensional graphics and rebated bumpers (7-9 local versions sport a bumper with a diffuser and large sections of fog lamps, the 11-seat version is equipped with a bumper with a quieter design and plastic protective cover).
The external dimensions of the body of the Kia Carnival 2019-2020 are 5115 mm in length, 1985 mm in width, 1740 mm (1755 mm with roof rails) in height, with 3,060 mm of wheelbase.
The track of the front wheels is 1735 mm, the track of the rear wheels is 1742 mm.
For the minivan there are several variants of 17-19 inch wheels, the largest with tires 235/55 R19.
Salon Kia Carnival is able to take 7, 9 and even 11 people. The seven-seater version is called Limousine with 3 rows, a landing formula of 2 + 2 + 3 and separate seats for the driver and front passenger, as well as two passengers of the second row. In this case, in the second row, there are ottoman chairs with adjustable footstools.
Salon of nine and eleven local versions of the minivan with 4 rows of seats and accordingly the landing formula 2 + 2 + 2 + 3 and 2 + 3 + 3 + 3. If at 9 local configurations for the driver and passengers of the 2nd and 3rd rows there are separate seats that allow you to accommodate with a high level of comfort, then if there are 11 seats, the cabin of the minivan is more like a salon of a bus.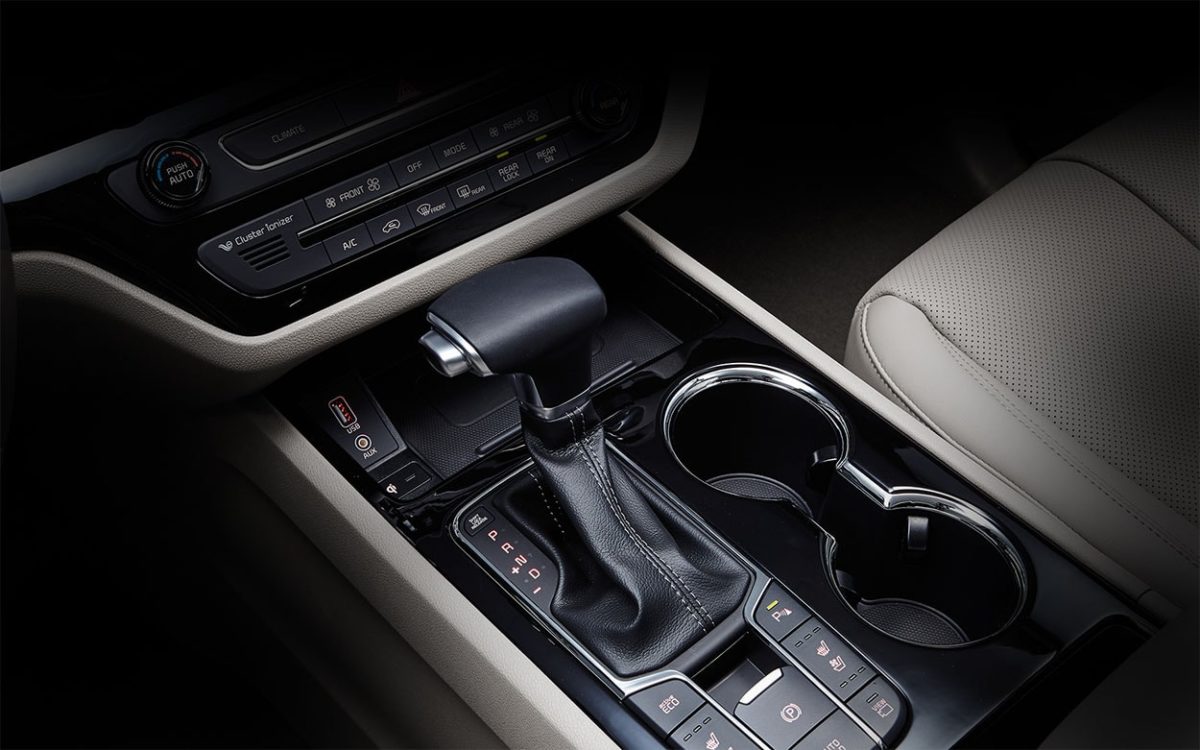 Having dealt with the placement of passengers, I would like to say a few words about the driver's workplace, the availability of advanced equipment and security systems, as well as finishing materials, with which, by the way, full order. The choice of seat upholstery fabric and various grades of leather, soft pliable plastic, decorative elements, perfectly inscribed in the overall tranquil interior style.
From the driver's seat, an excellent view opens up due to the large glazing area. In front of the driver is a convenient multifunctional steering wheel, an informative instrument panel with large radii of a tachometer and a speedometer, located in separate wells and separated by a color screen of an on-board computer. The massive front panel and center console easily place on their surfaces a solid set of modern equipment (a multimedia complex with an 8-inch display and a pair of rows of buttons for its control, an air conditioning control unit) and two glove boxes.
For the updated minivan Kia Carnival offers a lot of advanced equipment: a platform for wireless charging of smartphones, heated steering wheel, electronic parking brake, driver's and front passenger's seats with electric adjustment, heating and ventilation, two sunroofs, Smart Cruise Control with stop / start functions , keyless entry system and engine activation button, Krell audio system with 8 speakers or JBL with 13 sound points, car lane keeping system, front frontal prevention system collision of, for objects monitoring system "blind" areas of rear-view mirrors, rear-view camera, High-beam headlights assistant, electric tailgate.
Specifications Kia Carnival 2019-2020 year.
The restyling Korean minivan, as well as the pre-reform model, is equipped with two engines (four-cylinder turbo diesel and a V6 gasoline engine), which received a new eight-speed automatic transmission in the pair.
Turbo Diesel 2.2 E-VGT (202 HP 450 Nm) delivers the maximum torque at 1750-2750 rpm of the crankshaft.
Gasoline engine 3.3 GDI (280 hp 343 Nm).